Stucco can be textured in a variety of different ways to ensure a finish that's truly unique to your building. If you have a specific vision for your finished façade, let us bring it to life for you. We're adept at applying a number of unique textures to your stucco, resulting in finishes that lend themselves to the building's aesthetic. Our abilities in Ogden, Roy, Salt Lake City, Weber County, and Clearfield, UT include:
Lace:

This texture gives your stucco a purposefully weathered look that leaves depth through an irregular pattern. It hides imperfections well and is a popular favorite.

Sand:

Using a heavier aggregate, this finish leaves a gravelly texture that's uniform throughout. Another popular favorite, it's common across residential and commercial.

Dash:

A "fluffier" texture, dash offers a softer aesthetic that offer great appeal. Depending on the aggregate, it can be coarse or fine.

Worm:

Worm texture is another irregular pattern that offers more depth. Rather uncommon, it's a great specialty finish.

Smooth:

As the name implies, this flat finish is devoid of texture and completely smooth to the touch. It's great for buildings that demand a blank slate.

Briar:

This texture looks as though there are embedded leaf patterns throughout, giving a tropical vibe.

Sweep:

By swiping the trowel over the façade, this pattern creates arches that offer a unique finish.

Freestyle:

This is a popular favorite texture that allows the stucco professional to dab and scrape randomly, creating a truly unique, yet cohesive pattern.

Combed:

A jagged trowel is dragged over the surface of the stucco to leave behind striations that mimic a comb.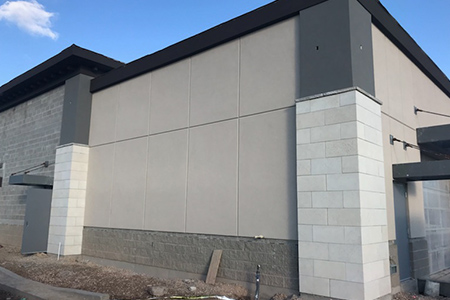 Interested in learning more about the various textures and finishes for stucco installation and repair? Don't choose just any stucco company, make sure you're working with Western One Coatings! Reach our knowledgeable team today at 801-544-6062 and we'll be glad to go through your options, helping you make the right decision for the appeal of your exterior.