Despite its extreme resilience and hearty weathering properties, stucco can become compromised over time. When cracks begin to form, sections erode or divots appear, they require stucco patch repair in Ogden, Roy, Salt Lake City, Weber County, and Clearfield, UT before they devolve into bigger issues.
Western One Coatings is able to provide a full scope of stucco repairs, in whatever capacity your building needs them. Whether you're staying on top of minor damages as they appear or doing restoration work on an aged building, our stucco repair contractors in Ogden, UT are ready to get to work.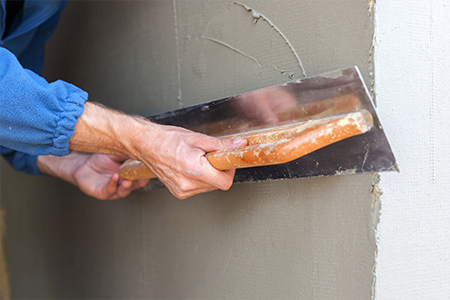 Stucco Patch Repairs
Most often, small stucco patch repairs are what's needed to restore your stucco surface's integrity. We're adept at patching all types of damages, from holes and cracks to areas where anchors have been removed or erosion has set in. More than just fixing your minor damages, our stucco repair contractors also able to help you determine their case, including catalysts for damage that may keep occurring if not resolved.
Large-Scale Repair
Undertaking a large-scale refurbishing or renovation project that requires comprehensive stucco repair? We're the team for the job. Our crews can handle stucco repairs of all sizes and projects of any scope—whether you're restoring the façade of your historic building or repairing a single façade after damage.
For large-scale repairs, we can work in tandem with other professionals to make sure your project timeline moves ahead seamlessly. We work quickly, without compromising workmanship, ensuring everything meets your highest quality expectations.
Get Stucco Repairs
With age and under the duress of constant weathering, your stucco could become compromised. Don't let it slowly crack and crumble away to larger damages! Contact Western One Coatings today at 801-544-6062 to schedule an appointment with our stucco repair contractors. We'll tend to any damages and restore the integrity of your stucco installation so it looks great and lasts. We work with synthetic stucco and stone and additional textures, so we're ready to help!